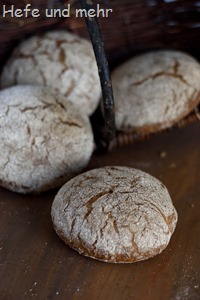 The third recipe for my rye bread tribology for the "Schwarzmarkt" is a recipe for Vinschgerl. It is similar to the one I posted back in 2012 but I changed a bit the handling and so I decided to post this one, too. The first thing I changed is the fact that I form the rolls in two batches. The first one after 30 min, the second one after 55 min. So the second batch can proof while the first one is proofing. This makes the time management more easy! The second change is that I learned to steam rye breads with a bit of delay. This improves the "crack-forming" in the crust and yields better looking breads :-).
The flavour of this rolls is perfect for all lovers of spiced bread: With fennel, caraway seeds, coriander and the characteristic "Schabzingerklee" their flavour is delicious and incomparable.
Vinschgerl
yields 10 Vinschgerl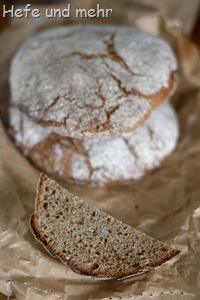 Sourdough
300g rye, freshly milled
30g sourdough starter
300g Water
Dough
Sourdough
200g rye, freshly milled
300g rye flour type 1150
300g flour Type 550
550g water
5g caraway seeds
5g fennel seeds
5g coriander seeds
1g Schabzigerklee (Trigonella caerulea ) (1 Tsp)
10g fresh yeast
20g Salt
In the evening mix water, flour and starter for the sourdough and ferment for about 13 –16 hours at 25°C.
Mix all ingredients for the dough  and knead it for about 7 min at low speed.
Ferment for 30 min.
Now form the first batch: Divide the dough into 200g pieces, shape them round and press them into flatbreads of 0,5 cm tickness. After 55 min form the second batch accordingly.
Proof on a well floured couche for 1 hour. In the meantime preheat the baking stone in the oven to 250°C.
Bake at 250°C for 25 min. Insert the steam after 90 seconds with steam and let the steam out of the oven after 10 min.
Now bake the second batch accordingly to the first one.