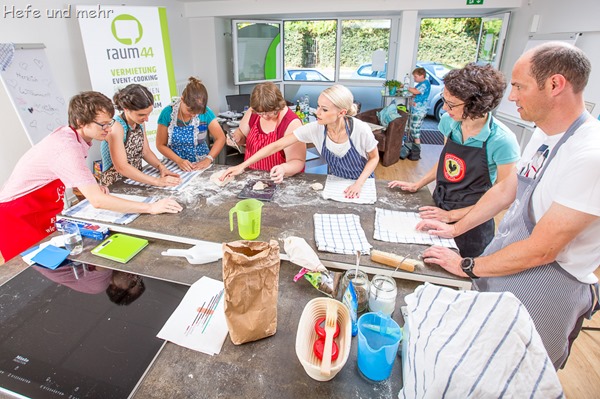 About 200 rolls made from about 12kg flour, that was the outcome of a sucessful bread baking day. The theme of the successful second bread baking course  was "homemade rolls" and took place in "raum44". I knew already from the first course that my time schedule was working properly but I was a bit nervous anyway. But as soon as the first cheerful participants arrived I relaxed as I realized that this was going to be great day!
The temperature was still summery hot with more then 30°C both inside and outside. A good opportunity for me to show all my tricks to cope with hot weather when baking bread to the participants. There is always a bright side even in tough conditions.
What was the course about?
The participants of this course all had already baked a bread or more before, but – at least some of them – never baked rolls before. And so we took our time to practice all important steps. We used different preferments, practice dough handling and tested different kitchen machines, worked with different dough consistencies and different techniques for forming rolls. And there where a bunch of different rolls: Pretzel rolls, whole grain rolls, Salzstangerl, Seelen, Rye rose bud rolls and classic rolls. Along the way we learned a lot about the theory behind baking, too!
To work us through all of this in six hours, my time schedule was rather thigh. But there was still enough time left for questions and talking shop, for exchanging ideas and for laughter. And at the end, every participants took about 30 delicious rolls back home.
During the course, the photographer Aliki Monika Panousi took some beautiful pictures which I am allowed to share with you.
And if you want to bake with me now: there are still some tickets left for the next baking course at 9. October 2016 (click hier).