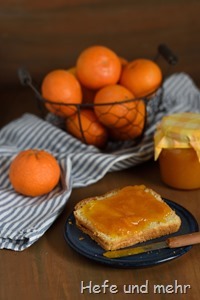 This is already the third batch of this orange marmalade I cooked in the last month. Partly because the marmalade is so delicious and partly because I tweaked every batch a bit more until I reached a state of perfection (at least for me). The idea of cooking and then pureeing whole oranges I took form Christine Ferbers "Jam bible". And already the first batch made after her recipe was great. But the bitterness was a bit to strong for me and so I started to tweak. I changed the time for cooking and the ratio of juice and whole fruits.
And I tested different kinds of oranges. My favourite is the Canoneta, but every juice orange is a good choose as the mesocarp (the white thing between rind and fruit) is thinner and so the marmalade is less bitter. But if you can get tangrin I can only highly recommend to add some to the mixture, too. They add a deepness of flavour that is incomparable.
And so the third batch is now a big candidate for the title "Favourite Jam of 2017" and in combination with freshly baked brioche it can replace every cake for me.
Velvety Orange Marmalade
800g juice Oranges (untreated, Ortanique and Canoneta)
1kg sugar
800g fresh Orange juice (Canoneta)
50g lemon juice
Bring slightly salted water to boil. Add the oranges and simmer for one hour. Remove the oranges with a slotted spoon. Puree together with the sugar and marinate over night.
The next morning add orange and lemon juice and pass through a fine sieve. Now let the mixture simmer for about 30 min until the temperature reach 103°C (more sauce like, perfect for mixing with joghurt) and 105°C  (perfect jam consistency). Fill in glasses and let cool.