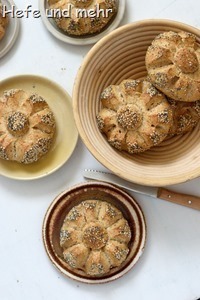 Some month ago I bought a apple slicer with two exchangeable cutter one for apples and one for for cubes. I planed to use the cube cutter for making french fries but it works only so-so. The apple cutter is a tiny bit better. But then – while forming rolls- I had THE idea which save the apple slicer from the waste bin. The cutter is perfect suitable for cutting rolls! Why I didn't had this idea already much earlier I don't know. The deep cuts open flower like during baking and I'm totally in love with their appearance.
The inner values of the rolls are beautiful as well: 40% whole grain pushes it to the healthy side, but the crumb is nonetheless fluffy and soft, the crust is crunchy and covered with seeds. It is once again a great roll for our breakfast table!
Seed flower

ergibt 10 Brötchen
Teig
200g Whole wheat flour
300g flour Type 550
325g Water
20g egg yolk (from 1 egg size L)
30g Butter
10g Malt
10g fresh yeast
10g Salt
optional 10g Sourdough
Seed mixture
Mixture from poppy seeds, sesame, polenta
Knead all ingredients for the dough for 5 min at slow speed and 10 min at fast speed. The dough should be now soft, but not sticky.
Let the dough rise over night in the fridge.
Divide the dough into 90g portions and form them into round rolls. Now rolls wet their surface and dip them into the seed mixture. Use a apple slicer and press him to 3/4 deep into the dough.
Turn the rolls on the cut and let them proof for 30 min on a bakers couche.
Preheat the oven to 250°C.
Turn the rolls, so that the cut side face upside once again, and place them on a paper lined baking tray. Mist with water and bake with steam for about 20 min at 250°C. For really crisp rolls turn to convection mode during the last 5 min.