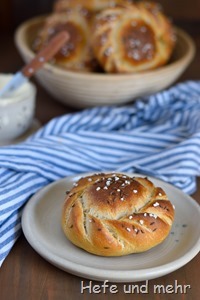 Another discovery of my search for regional breads is the Salzweck. Its a roll which stems from the region Baden and which is formed in a special way. Its rim is folded in a similar way like used for Kärntener Kasnudeln  or for the Handsemmeln. Its not so difficult to form and to proof this I took a video from the forming process.
The roll comes golden brown out of the oven and provides a fluffy soft crumb under its crisp crust. This is due to the combination of the macial combination of egg yolk, butter, enzyme active malt and vitamin C from the powdered rose hip. To make the flavour deep and complex, I added a Biga to the dough, too. Taken together this yields a beautiful looking roll with great aroma!
Salzweck
yields 9 rolls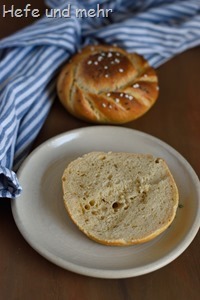 Biga
170g flour Type 550
85g Water
0,5g fresh yeast
Teig
Biga
330g flour Type 550
200g  Water
20g egg yolk
25g Butter
10g inactive Malt
3g active Malt
4g powdered rose hip (optional)
10g fresh yeast
10g Salt
Mix all ingredients for the biga and let it rise in the fridge.
Knead all ingredients for the dough for 5 min at slow speed and 10 min at fast speed. The dough should be now soft, but not sticky.
Let the dough rise over night in the fridge.
Divide the dough into 90g portions and form them into round rolls.Let them rest for 20 min. Now flatten the rims of the roll and fold them to the middle (see video).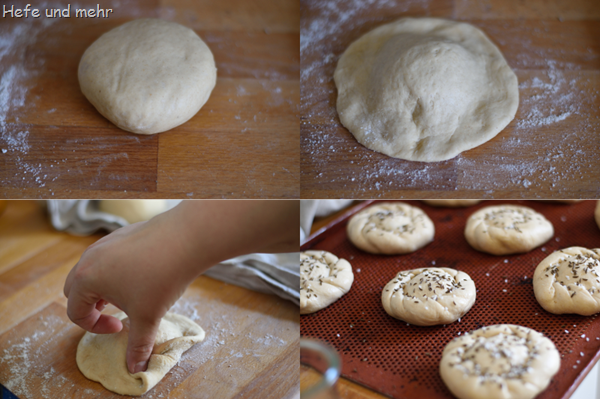 Turn the rolls on the formed side and let them proof for 30 min on a bakers couche.
Preheat the oven to 250°C.
Turn the rolls, so that the cut side face upside once again, and place them on a paper lined baking tray. Mist with water and bake with steam for about 20 min at 250°C. For really crisp rolls turn to convection mode during the last 5 min.