I stumpled about the Neheimer Stütchen during a guided tour in the cologne cathedral. It was the fact that Count Gottfried von Arnsberg IV. is buried as the only  not clerical person. This prominat burial place he got because of a very generous gift to the cologne bishop – and to ensure that the people in his county would pray for him after his death he gifted a very good forest to the city of Neheim. The forest still exists and from the yearly gain of it several celebrations are paid: each year a wreath is laid down at his tomb in the cathedral, there are count gottfried games and all children of the city get a roll called "Neheimer Stütchen" at the 4th september.
The Neheimer Stütchen is a sweet milk roll, a bit larger then normal and already that tempted me. And as this story is such a nice one that it fits very well in my blog series of regional, traditional breads. And so I baked my version of this roll, with a biga for aroma and a water roux for fluffy soft crumb.
Neheimer Stütchen
yields 9 rolls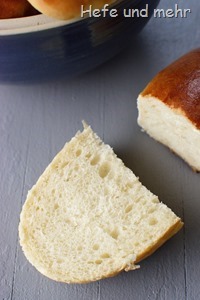 Biga
200g flour Type 550
100g Water
1g yeast
Water roux
150g Milk
30g flour Type 550
Dough
Biga
water roux
300g flour Type 550
10g Salt
10g yeast
55g Egg (1 Egg Size L)
80g Milk
65g Butter
60g sugar
Dekoration
Mix the ingredients for the bigar and let it rise for at least 16 hours in the fridge.
For the milk roux mix milk and flour until lump free, then heat it up to 65°C (needs about 3 min) while whisking. Fill the water roux in a bowl, cover its surface with cling foil and let it cool down to room temperature.
Mix flour, sweet starter, milk, egg, yeast, salt and spices and knead for 5 min at slow speed. Then knead 7 min at fast speed. Now add the sugar in small increments and knead until the sugar is incooperated before adding the next sugar. At last add the butter all at once. Knead to full gluten development.
Let rise for one hour temperature plus 1-2 hours in the fridge.
Divide into portions of 120g. Form a long roll and place it on a baking tray.
Proof for 90 min.
Brush with egg and at 220°C for about 15 min with steam.