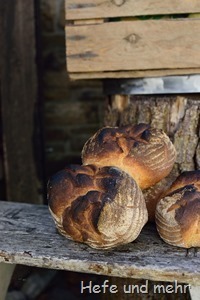 October means that its time again for World Bread Day. And as I baked bread in the wood fired community oven of our local history museum,  I have a real "Backes Bread". The Word "Backes" means community bread baking house in our dialect. And baking bread in such a "Backes" means sharing a great feeling of society. There are not so many other things that creates a sense of community then some loaves of bread made and shared with one another.
And so this bread is a bread meant for sharing. It is baked by placing two small loaves in one proofing basket. The ingredients of the bread is a bit inspired by leftovers: mashed potatoes, some quark and a bit of whole emmer flour. The Quark and Potatoes make the crumb moist while the emmer adds a deep nutty flavour.
The breads left the oven with a real dark crust – something that can happen by this more archaic way of baking. And it fits somehow very well with the bread, it adds a slight smoky flavour – and that goes extremely well with a bread from a wood fired oven.
Backes Brot
yields 2 Twin Breads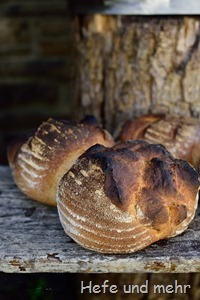 Sweet Starter
Dough
sweet Starter
350g mashed potatoes
200g whole emmer flour
500g flour Type 550
120g Quark
220g Water
30g Butter
15g fresh yeast
20g inactive malt
24g Salt
Mix water, flour and sweet starterferment it 2-4 hours at 30°C.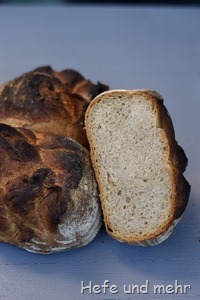 Now mix all ingredients for the dough, and knead it 5 min on slow speed and 8 min on high speed.
Let the dough rise to overnight in the fridge.
Shape the dough into four round loaves and place always two loaves in one proofing basket, seamside down.
Preheat the baking stone to 300°C. Place the loaves in the oven and bake with steam for 5 min, then turn the temperature down to 250°C. Bake for 10 min at 250°C then reduce the temperature to 200°C and bake another 40 min. For a extra crisp crust turn on convection mode during the last 10 min.