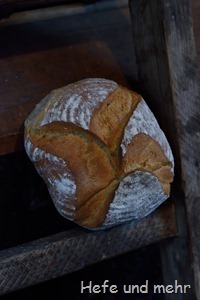 After a lot of recipe development for my last course I have a lot of little flour leftovers from various ancient grains. There was for example the packet of white Kamut flour which I bought before I decided that the ancient grain workshop would be a whole grain workshop, too. And so I decided to use the last bread baking day in the museum to cut down some leftovers and baked pure kamut bread.
The bread contains about 40% whole grain flour which is mainly added to the poolish. That allows the flour to take up a lot of water. Especially Kamut is able to soak up a lot of water – at least all the batches I worked with in the last month. Anyway it is a good Idea to start with less water and add the water while kneading – just in case. The mild flaovur of the poolish fits very well to the nutty aroma of the Kamut.
As finding your own bread between all the other breads of the communal oven can be tricky, and so I take care to form my bread so they can be easy recognized. This time I shaped it first round and formed some "flaps" at its side and folded them to the middle. I used a similar technique for triangle breads, too!
Kamut-Packet
yields 2 Breads
Poolish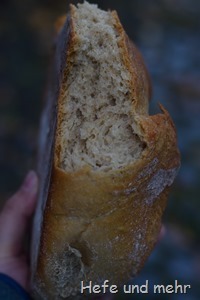 250g whole kamut flour
300g Water
2g fresh yeast
Teig
Poolish
600g white kamut flour
150g whole kamut flour
380g Water 1
20g Salt
6g fresh yeast
100g Water 2
Mix water, flour and yeast for the poolish and ferment it overnight (about 12 hours).
Mix all ingredients except the water 2 for the dough  and knead it for about 5 min at low speed, then 8 min on high speed until medium gluten development. Turn back to low speed and knead water 2 in small portions into the dough.
Ferment over night in the fridge.
Divide the bread into 2 pieces and preform the dough to a balls. Let it rest for 5 – 10 min. Now flatten the sides of the ball, forming a higher square in the middle with "wings" attached to the triangle. Fold the "wings" into the middle so that a square is formed. Place thee loaves seamside down in a proofing basket.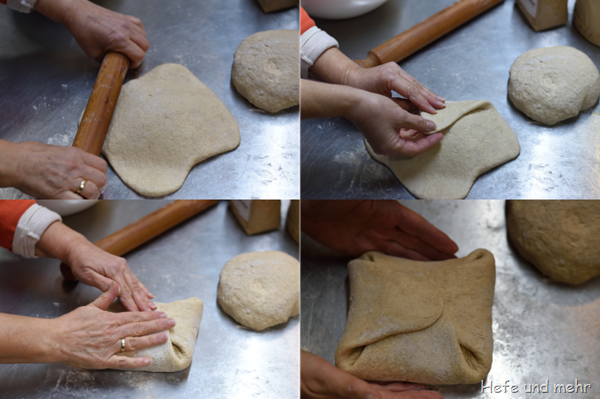 Proof for 1.5 houra.
In the meantime heat the baking stone at 250°C.
Bake the breads for 50 min with steam, reducing the temperature to 200°C after 10 min.