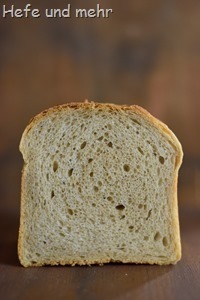 Most of the time I think that breads with the tag "vegan" are silly. The standard variant of bread means "flour, water and salt" and this is after all so pure and simple vegan that there should be no questions left. But with sweet breads this is a different story. I always try to avoid highly processed replacements like margarine. And so I was fascinated when I read in a description of a organic baker that he uses coconut oil for vegan baking.
Using this fat makes sense as it contains naturally a high amount of saturated fat and so is solid at room temperature. I just wondered if the the slight coconut flavour of the oil would shine trough in the baked good. And to verify this question there was just one option: Baking a bread with coconut oil.
The recipe bases on recipe draft I made already in summer for participant of my baking courses. I never found the time to test the draft. But now I tweaked a bit and came finally up with this vegan variant. It results in a very fine white bread with a fluffy and soft crumb. Its only slight sweetness harmonizes very well with cheese or sweet spreads. The coconut flavour of the oil is not perceptible and so it makes a good alternative for baking with butter. I just have to test now what happens when I use higher amounts of this fat…
Dinkelchen
yields 4 Brot of 400g
Pâte Fermentée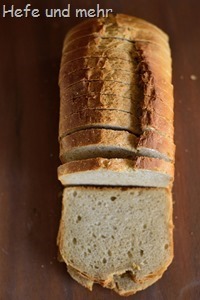 350g spelt flour Type 630
245g Water
3g fresh yeast
7g Salt
Teig
Pâte Fermentée
650g spelt flour Type 630
400g Water
5g psyllium hulls
50g sugar
5g active malt
35g coconut oil
15g fresh yeast
13g Salt
7g rose hipp powder(optional)
Mix the ingredients for the Pâte Fermentee and let it rise for 16-24 hours in the fridge.
Mix all ingredients for the dough and knead 8  min at slow speed, tehn 3 min at high speed to full gluten development .
Let the dough rise for 2 hours.
Now divide the dough in four equal pieces. Let the dough relax for 10 min, then form to round breads. Place each bread seam side down in a baking pan (for 500g).
Proof for 1.5 hours.
Preheat the oven to 250°C. Place the breads in the oven, reduce the heat to 200°C  and bake the breads for 50 min with steam.