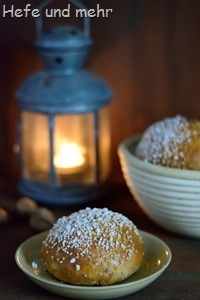 Besides of baking Martinsbrezel I tested a recipe as well: St. Martins Rolls. Like for the Martinsbrezel I learned about them from a dear reader. These rolls are stuffed with candid orange peel and hazelnuts and topped with a generous amount of pearl sugar. They are only  baked in the time between St. Martin and Christmas.
And even with the temperature far away from winter, I felt a bit like Christmas when I smelled the candid orange peel and nuts during baking. And on breakfast I fell completely in love with the rolls. Spread with some honey (a gift from a baking course participant) they are so delicious!
Martinsbrötchen
yields 12 rolls
Pâte Fermentee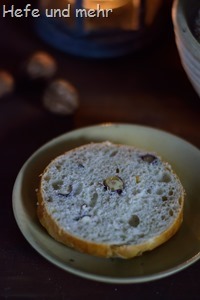 150g flour Type 550
105g Water
0,5g fresh yeast
Dough
Pâte Fermentee
350g flour Type 550
200g Water
50g Egg
10g Salt
10g fresh yeast
5g psyllium hulls
1/2 freshly grated orange peel
40g sugar
100g Butter
120g candid orange peel, finely copped gehackt
100g hazelnuts, halved
Topping
Mix the ingredients for the Pâte Fermentee and let it rise for 16-24 hours in the fridge.
Knead all ingredients except sugar and butter for 5 min at slow speed. Then knead 7 min at fast speed. Now add the sugar in small increments and knead until the sugar is incooperated before adding the next sugar. At last add the butter all at once. Knead to full gluten development.
Let rise for 90 min at room temperature and another 2 hours in the fridge.
Divide into 100g pieces and form them to buns. Place on a baking tray.
Proof for 1.5 hour.
Prior to baking, brush with egg and sprinkle generously with pearl sugar
Bake it at 200°C for 15-17 min with steam.