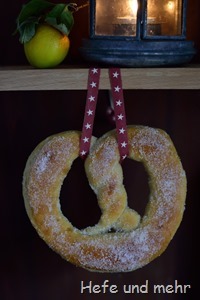 The Saint Martin's Day is a celebrated through whole Germany. The traditions anyway vary from region to region. In the Bergische Land, where I live, and in the Rhineland, one tradition is to give a Weckmann to each child after the lantern procession. In other regions instead of this weckmann they get a Martinsbrezel (Martin's pretzel).
I learned about these tradition quiet recently and did some researching then. And interestingly this tradition is rather wide spread and there are differnt kinds of pretzels. In some regions, they are topped with pearl sugar before baking while in other regions they are brushed with butter and turned in fine sugar after baking.
I decided to try the second variant. Due to the big amount of sugar decided to use only a small anount of sugar in the dough. And then these pretzel are big treat – they may not replace a weckmann in this house but are a good addition to them!
Martinsbrezel
yields 10 pretzels
Biga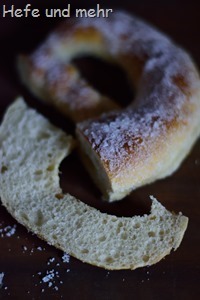 150g flourType 550
75g Water
0,5g fresh yeast
Teig
Biga
350g flour Type 550
220g Water
50g Egg
10g Salt
10g fresh yeast
4g Malt
5g psyllium hulls
40g sugar
100g Butter
Topping
50g molten Butter
ca 150g fine sugar
Mix the ingredients for the biga and let it rise for 16-24 hours in the fridge.
Knead all ingredients except sugar and butter for 5 min at slow speed. Then knead 7 min at fast speed. Now add the sugar in small increments and knead until the sugar is incooperated before adding the next sugar. At last add the butter all at once. Knead to full gluten development.
Let rise for 90 min at room temperature and another 2 hours in the fridge.
Divide the dough into pieces of 80g and form them to light balls. Rest them for 20 min.
Now roll the dough to a strand of 70 cm. The strand should be a bit thicker in the middle then at the ends. Form to a pretzel and place on a baking tray lined with baking parchment.
Proof 90 min on room temperature.
Bake it at 200°C for 15-17 min with steam.
After baking brush with molten butter while the pretzels are still hot. Turn them now in fine sugar and place them on a wired tray to cool down.