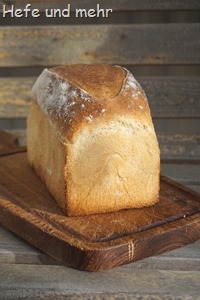 Tin Breads are so convenient when baking in a kitchen that isn't yours . No need for a bread baking stone, no need for a lot of fuss. And so I baked an old fashioned white tin bread. In Germany it is called "Kasten-Weißbrot" and is a bread with a lot of tradition.  So it fits in my post series of traditional breads.
The bread is baked with a young sourdough to keep the amout of acid low to prevent a gummy crumb. For a young sourdough you need a very active starter so the sourdough can double or triple its volume in the short time.  To enhance the fluffy crumb I added a bit of powdered rose hip which is a natural source of vitamin c. The rest of the dough is a quite simple white bread dough with a tiny bit of butter for a tender crumb. A bit of enzyme active malt helps to create a crisp crust.
It is a simple but so delicious bread. It tastes great with cheese or with peanutbutter and honey!
White Tin Bread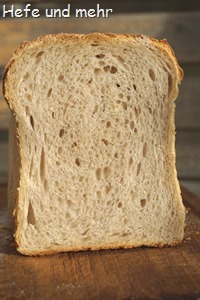 yields 3 Breads
Sauerteig
300g flour Type 550
300g Water
30g Sourdough Starter (very active)
Teig
Sourdough
700g flour Type 550
360g Water
5g enzyme active Malt
20g Butter
10g rose hip powder (optional)
10g fresh yeast
20g Salt
The night before mix the ingredients for sourdough let rise for 10-12 hours .
The next morning mix all ingredients for the dough and knead 3 min at slow speed, then turn to fast speed and knead to full gluten development (about 8  min).
Let the dough rise for 2.5 hours.
Now divide the dough in three equal pieces. Let the dough relax for 10 min, then form to long breads. Place each breads seam side down in a baking pan (for 500g).
Proof for 1.5 hours.
Preheat the oven to 250°C and bake the breads for 10 min with steam. Then release the steam and reduce the temperature to 220°C zurückdrehen. Bake for another 35 min. Remove from the pan and bake another 5-10 min for a crisp crust.