Some times we need some one who point out the obvious. When a reader asked for a recipe for pita bread I wondered why I had not thought about it before.
And so I looked at many recipes and an idea was forming in my mind. When I had my recipe sketched out, I saw that Sara from Sara bakar did published a Pita recipe, too. And so I took some good advices from her: making small sized Pita bread is one of them, the other is the idea to turn the bread after proofing before baking.
Watching the bread in the oven was then my most beloved oven tv. In just one minute the bread puffed up. It was so fascinating. And while the bread cooled down, I prepared some  Falafel and had a delicious lunch a short while later!
Pita Bread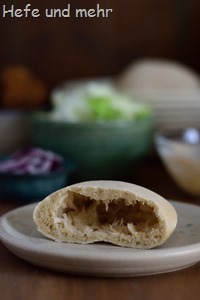 yields 10 breads
sourdough
150g flour Type 550
150g Water
15g sourdough starter (very active)
Dough
Sauerteig
350g flour Type 550
150g water
15g Olive oil
10g Salt
3g fresh yeast
At the morning mix the ingredients for sourdough let rise for 10-12 hours .
In the evening mix all ingredients for the dough and knead 3 min at slow speed, then turn to fast speed and knead to full gluten development (about 8-10  min).
Place the dough in the fridge and let it ferment for about 16 hours.
The next morning dived the dough into pieces of 80g. Let the dough relax for about 10-15 min, then roll them into 10 cm wide discs (about 0.5 cm high).  Place them on a tea towel or baker linen and cover.
Proof for 90-120 min.
In the meantime preheat the baking stone at 300°C
Bake the flatbreads on the hot baking tray for about 2 min at 300°C, then turn them around and bake for another 1-2 min.  Remove from the oven and cover with a towel until serving to prevent drying.