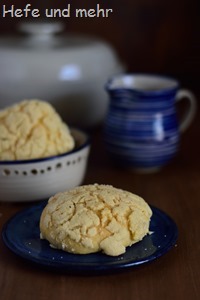 A sweet treat which seems to be perfect for Easter Sunday breakfast is the traditional Aachener Streuselbrötchen (Streusel rolls from Aachen). They stem – as the name suggested – from Aachen and are not known above the city borders. And that is a pity, as they are so delicious, especially if you are a devoted streusel lover like I am. So I try today to get these rolls the national (or even international) attention they should have.
Forming these rolls is a bit "brutal", as the nicely round formed rolls are firmly pressed into the streusel. They come out flat and with an even streusel surface. But this is how it should look, so do not fear. During proofing and baking they will gain height and the streusel surface will part again. And then you will have one of the most delicious breakfast treats you can bake!
Aachener Streuselbrötchen
yield s13 rolls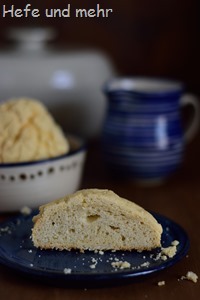 Biga
80g flour 550
40g Water
0,5g fresh yeast
Teig
Biga
370g flour Type 550
50g rye flour Type 610 or 1150
150g cream
75g Water
40g sugar
50g Butter
50g egg (1 Egg size M)
10g fresh yeast
4g Salt
Streusel
200g flour Type 550
150g Butter
100g sugar
1 pinch Salt
Mix all ingredients for the Biga and ferment it in the fridge for 16-48 hours.
For the dough knead all ingredients except the butter for 5 min at slow speed. Then knead 7 min at fast speed. Ad the sugar in small increments and knead in between until all sugar is incooperated. At last add the butter all at once and knead until full gluten development.
Ferment overnight in the fridge (or one hour at room temperature and 1-2 hours in the fridge)
In the meantime mix the ingredients for streusel, at the end you should have a crumbly dough.
Divide the dough into pieces of 75g. Shape into balls. Place the streusel in a thin layer on the counter and press the rolls firmly into them. Afterwards the rolls are flat and covered with streusel.
Proof for 90 min.
Bake for 15-17 min with steam at 200°C.