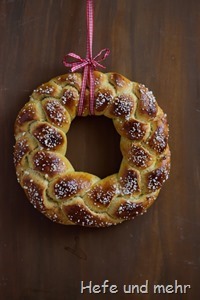 I hope, you all enjoyed the splendid Easter weather! Is there anything better then a Breakfast in the sunshine with the family? For our breakfast on Easter Sunday I baked a Spelt Easter Wreath.
To be able to serve a still oven warm wreath, I decided to go for another overnight recipe. And so I used only a bit butter in the dough while the bigger part of the fat stems fro m the cream. Instead of binding water in a hot soaker or water roux, I opted for using yoghurt in order to make the bread baking more relaxed. And I used a pâte fermentée as a preferment, so I could prepare it already three days in advance, if needed. This helps to relax the busy Easter schedule, too.
And so I only had to prepare the dough and form it after 90 minutes fermenting time on saturday evening. The wreath proofed over night and on Easter Sunday all I had to do is placing the dough in the oven. Perfect for a relaxed sunday!
Spelt Easter Wreath
yields 2 wreaths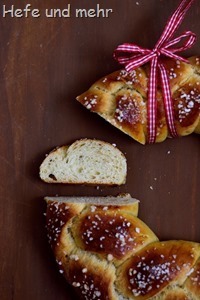 Pâte Fermentée
80g spelt flour Type 630
55g Water
1g fresh yeast
1g Salt
Dough
Pâte Fermentée
370g spelt flour Type 630
50g rye flour Type 1150
125g (sheep milk-)Yoghurt
100g cream
55g egg (1 egg size L)
7g Salt
8g fresh yeast
75g sugar
30g Butter
1/2 vanilla bean
Peel of 1/2 Orange, finely grated
Decoration
1 egg (beaten)
pearl sugar
Mix all ingredients for the Pâte fermentée and proof it for 1 hour at room temperature. Then put the dough into the fridge for 12 –72 hours.
Knead all ingredients except sugar and butter for 10 min at slow speed. Now add the sugar in small increments and knead until the sugar is incooperated before adding the next sugar. At last add the butter all at once. Knead to full gluten development.
Let rise for 90 min.
Divide the dough into 6 equal pieces (about 160-165g) and roll it into strands with a length of  60 cm. Take always three and braid them.  Brush lightly with beaten egg.
Proof overnight in the fridge.
After proofing brush again with egg and sprinkle with pearl sugar.
Bake at 200°C for about 20-25min with steam.