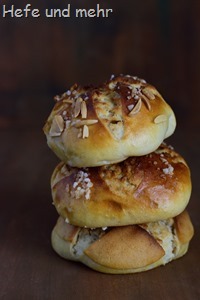 A dear reader told me last year about a speciality in the north-western Part of germany: Campingwecken (lit. Camping rolls). She descripted it as a roll filled with a mixture of roasted almonds and pearl sugar. I was intrigued and started researching. It seemed, that the variant with almond is a rare one, more commenly is a variant with only pearl sugar. I even found a bakery who offered this kind of rolls in the city of Leer in our last vacation in East Frisia, so I could try this roll.
But as I I'm a curios person, I wanted to eat the almond version as well. And so today I have now Campingwecken in both variants for you!
Campingwecken
yields 10 rools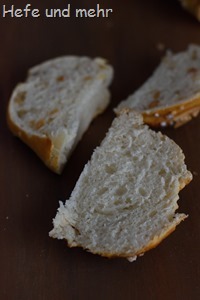 Pâte Fermentee
150g flour Type 550
105g Water
0,5g fresh yeast
3g Salt
Teig
Pâte Fermentee
350g flour Type 550
100g Water
150g Quark
50g Egg
7g Salt
10g fresh yeast
5g psyllium hulls
grated peel of 1/2 lemon
40g sugar
75g Butter
Alternative 1: Sugar dough
450g dough
120g pearl sugar
oder
Alternative 2: Sugar almond dough
450g dough
120g pearl sugar
120g roasted almond slices
Glazing
Mix all ingredients for the pate fermentee and ferment it in the fridge for 16-48  hours.
For the dough knead all ingredients except the butter for 5 min at slow speed. Then knead 7 min at fast speed. Ad the sugar in small increments and knead in between  until all sugar is incooperated. At last add the butter all at once and knead until full gluten development.
Let the dough rest for 90 min.
Now mix the ingredients for the sugar dough or the sugar almond dough .

Devide both doughs in pices of 50g. Roll the sugar dough into balls, and flatten the dough to discs. Place the sugar dough it on the top of the white dough disc. Fold  the dough over the sugar dough and put the bun on the seam.
Proof for 90 min.
In the meantime, preheat the oven to 220°C.
Glaze the buns with egg, sprinkle with pearl sugar and cut cross wise. Bake for 15-17 min at 220°C with steam