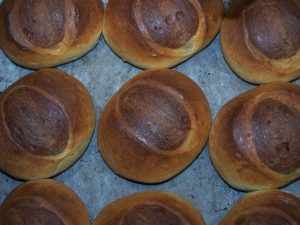 Our local baker has delicous sweet buns called "Kakaoweckchen".  They have a core of dark cacaodough surrounded with white dough. The cacaodough break through the cut on the top of the bun, giving an impressive effect.
At my last breakfast in the café belonging to the bakery I thougt about how to make this buns by my own. I decided to use the "sweet dough" from Bertinets "Dough" as a basis. The only change I made was using a preferment. After finishing kneading, I mix half of the dough with some cacao and water, but that did not work so well, so the next time, I would make two batches of dough, mixing the cacao with the flour directly.
Cacaobuns

(yield about 10 buns)
Preferment
2o0g Flour
250g Milk
10g Yeast
Dough
whole of the preferment
300g flour
2 large eggs
60g butter (roomtemperature)
80g sugar
8g salt
addional for the brown dough
half of the dough
2 tablespoons Cacao
1 tablespoonsWater
For the preferment disolve the yeast in lukewarm milk, then mix the milk with the flour. Ferment at a warm place.
Mix the preferment with the flour and add in small portions butter and eggs. Mix for one to two minutes between additions. Add at least sugar and salt. Continue to mix until the dough pulls away from the sides of the mixingbowl and the gluten is half developed.
Divide the dough in two halfs and  put one half aside. Knead the other half with water and cacao untill the dough is homogenous. Ferment for one hour at a warm place.
Devide both doughs in pices of 40g. Make little bowls of the brown dough and flatten the white one to discs. Wet the brown dough bowl and but it on the top of the white dough disc. Wrap it in the wight dough and put the bun on the seam.
Let the buns rest for 30 min. Cut the buns after 20 min.
Bake at 220°C for 25 min.