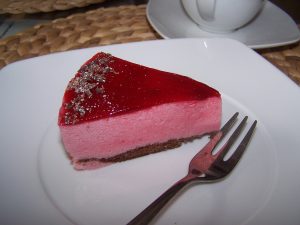 My Boyfrind complained some days ago, that I bake always bread, but never a torte. Well, I fear that it's true because I do not like tortes so much. But I own a tiny little springform with a diameter of 18 cm since Chrismas (Thanks Erika and Alwins :-D), a perfekt Size for a small torte for two.
And because I was looking for something for the Jubiläums-Blogevent from Zora (1x umrühren bitte), I could hit two birds with one stone.
I proudly present: A mini-torte.
Raspberrymousse-Torte
for a  Springform with a diameter of 18cm
dark sponge cake

1 Egg
35g Sugar
30g flour
5g cacao
Raspberrymousse
150g Raspberry puree (strain frozen rasberry through a sieve)
10g agar
150g whipping cream
2 egg whites
50 g sugar
Raspberry-Gelee

50g Raspberry puree
75g water
25g sugar
1 teaspoon Agar
Dough: Whip the egg with sugar over a bain-marie untill the mixture become light and thick. Sift flour and cacao on the mixture and fold in carefully.
Bake in a 18 cm springform at 175°C for 15 min.
Raspberry-Mousse: Head the raspberry puree with agar untill it starts boiling. Boil for another 2 min. Cool down to 50°C.
Whip eggwhite with sugar over a bain-marie and fold it into the puree. Let cool down to 30°C. At this temperature agar starts to solidify.
Whip the cream and fold it into the mousse.
Now put a cake ring around the sponge cake  and pour the mousse on it. Let the mousse set in the fridge (20min)
Now boil incredients for the gelee for 2 min, then pour it directly on the mousse. Cool the torte again 5 min in the fridge. Then top it with chocolate flakes and powdered sugar.
[tab:END]
Update: Die Torte hat gefallen 😀 Mein Freund hat direkt 3/4 von ihr "vernichtet". 😉