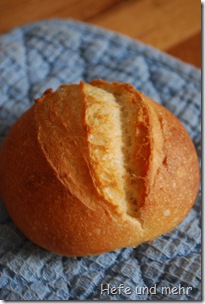 Bread baking is something very infectious. After reading my blog for some time my little sister started to bake bread, too.
But then she send me following email:
"After kneading 8 min, my cheap mixer starts making weird sounds. I fear it will explode! I am just want to tell you that I am afraid of explosions!"
And as a loving sister I did not want to risk her life by exlpoding mxers! So here a recipe you can knead easyly knead by hand (I tested it) and that do not need special baking equiments.
I use Bertinets kneading technique combined with autolysis and Stretch-and-Folds to easyly develope the gluten.
Rolls
yield 10 rolls
500g flour Type 550
250g milk
75g water
60g soft butter
10g sugar
10g salt
5g fresh yeast
Mix flour, milk and 50g water with the water untill well combined. Then rest the mixture for 30 min (Autolysis). During autolysis the proteins in the flour get hydrated, so that the gluten develops faster when we started kneadíng.
After Autolysis: Disolve yeast in 25g water, then add it to the flour-milk-water-mixture, also add butter, salt and sugar. Stir untill a sticky dough has formed. Now place the dough on the counter and knead untill the dough has a soft and silky sureface and do not stick anymore (about 10 min).
Place the dough in a bowl, cover it with a towl and let rest for 30 min. Then fold the dough: Place the dough on a floured counter, flatten it into a sqaure, then fold  from the upper part and the lower part into the middle, then do the same from right and left. Ferment for 30 min, then fold again. Rest again for 30 min.
Now divide the dough into pices of 80g and form small boules.
Place on a paper linned tray and proof for 1 hour.
Preheat the oven to 220°C.
Slash the rolls and bake them for 25 min with steam. To create steam use a spritzer and spray with it the walls of the oven.