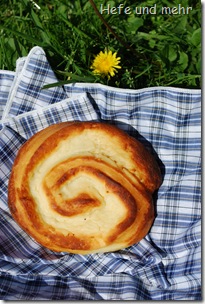 For a day trip with my parents I planed to bake something sweet for our picnic. Because my mum suffers from Fructose malabsorption sweet things are always difficult. Fruits are forbidden, as well as anything else that contains high amount of fruit sugar like honey or maple sirup. Even vegetables like tomatos, sweet red pepper and Carrots are bad for her.
So I deciced to to cream cheese swirls for us. But in the supermarket I realise that cream chesse contains carrageen and carobin. I was not sure, if these incredients are allowed, so I buyed ricotta and curd instead.
Curd-Ricotta-Swirls
Dough:
500g flour Typ 550
225g milk
10g fresh yeast
5g salt
90g egg (1,5 eggs, Size L)
55g sugar
160g soft butter
Filling:
250g curd
150g ricotta
90g sugar
60g glucose
30g egg (0,5 eggs, Size L)
1 teasoon vanillaessenz
40g soft butter
50g flour
Mix flour, milk, yeast and egg on slow speed for 3 min, then knead on high speed for 6 min. Now add the sugar spoon by spoon, always knead in between untill the sugar is incooperated, then add the next spoonfull sugar. Then add the butter, again in small portions.
Rest the dough 1 hour on roomtemperature, then place the dough for another hour in the fridge. If you don't chill the dough it is nearly impossible to roll it because of the high butter amount.
In the meantime prepare the filling: Mix Curd, ricotta and sugar, then add egg, butter and vanilla and mix again. At last stirr in the flour.
Roll the dough, spread it with the filling and roll it from the long side rather loosely into a log. Cut in 4 cm wide slices, place on a baking tray and proof for one hour.
Bake at 200°C for 25min.
I send this post to Susans weekly Yeastspotting! You can see there so many gorgeous breads!