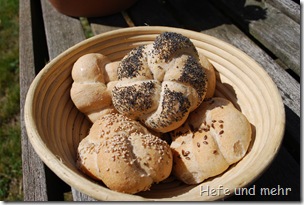 My family loves baking, and Sarah, the best friend of my little sister, loves it, too. So our last Mother-Children-Friends-Day had a motto: Bread baking. We bake pretzels and Kaiser rolls. Baking in a group is so much fun!
I found a recipe for Kaiser rolls some time ago at chefkoch.de, and bake and blog about it, but I was never really satisfied with the taste. I missed the complex flavors that the diffrent types of preferments give to a bread.
So I create my own recipe for Kaiser rolls: with pâte fermentée, less yeast and more time. And that improves the flavor so much!
Kaiser rolls
for 20 rolls
Pâte fermentée
175g whole wheat flour
165g flour Typ 550
230g water
1g Hefe
5g Salz
Dough
570g Pâte fermentée
10g yeast
700g flour Typ 550
40g soft butter
15g salt

370g water
Toppings
poppy seeds or other seeds
Mix all ingredients for the Pâte fermente and proof it for 2 hour at room temperature. Then put the dough into the fridge for 12 hours.
Now mix the incredients for the dough and knead 5 min at the slowest speed and 5 min at higher speed until medium gluten development.
Ferment for one hour.
Divide into pices of 80g each and roll every piece to a 20 cm long strang. Make a knot acording to these instruction.
For poppy seed rolls wet the sureface of the rolls a little bit, then dipp the roll in poppy seeds.
Proof for one hour, then bake at 230°C with steam for 25 min.
Das ist mein Beitrag für Susans wöchentliches Yeastspotting. Einen Besuch auf ihrer Seite kann ich sehr empfehlen, es gibt dort so viele schöne Brote zu bestaunen.