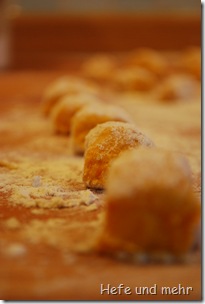 It's clearly autum: in the supermarkets I see the first christmas cookies (thats cruel! I don't want to think about christmas yet!) and the shelves are filled with pumpkins! I love pumkins, they are my favorite vegetable in autum! Today I cook pumpkin gnocchis. I found the recipe onNicole Stichs Blog Delicious Days.
I change the recipe at two points: I did not use the potato ricer but my foot prozessor, because this is much easier to handle. The second change was that I use not all purpose flour but bread flour. The reason is an easy one: I had only bread flour at home!
The dough is very sticky, but like the Ricotta-Gnocchi it is easy to roll the dough when the counter is well floured. With sage butter it is a delicous dish.
Pumpkin gnocchi
450g pumpkin(Hokkaido)
100g flour Typ 1050
1 egg yolk
salt
fresh grinded nutmeg
Sage butter
10 sage leaves
30g butter
salt
pepper
fresh parmesan
Preheat the oven to 200°C. Cut the pumkin into halves and remove the seeds. Cut into thin slices roast in the oven for 30 minutes untill soft.
To form the gnocchi generously flour the countertop, take a big tablespoon of the dough and give it on the floured countertop. Now dust it with flour and roll into a  finger-thick roll.
Meanwhile heat a large pot of water untill it simmer, add some salt and asd the gnocchi and stir carefully, so they don't stick to the bottom. Cook them untill they floating on the sureface. This take 2 to 4 minutes. Take them out with a skimmer.
Meanwhile melt 1 Tablespoon butter and add some sage and salt. Mix it with the gnocchi and serve immediately.
[tab:END]