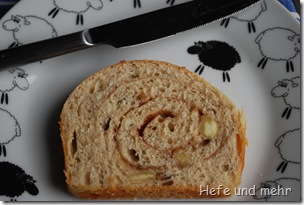 Since last BBD I have a lot sweet breads on my toDo list. Especially raisin cinnamon breads are on top of the list. But raisins are a minor problem here. My boyfrind is sure that raisins are murdered grapes. He always tells me that it is better to eat them fresh. 🙂
So I decided to replace raisins with almonds. The recipe was inspiered by Steve and Sara.
The Bread taste so good! And when I toast it the whole kitchen is filled with cinnamon fragrance.
Almond-Cinnamon-Swirl-Bread
Dough:
250g flour Typ 550
250g flourTyp 1050
20g sugar
10g malt diastic
5g salt
7g fresh yeast
1 egg
30g butter
150g yoghurt
50g milk
120g water
100g almond, chopped
filling:
50g sugar
4g cinnamon
20g melted butter
Knead the incredients for 3 min on slow speed, then another 5 min with high speed untill medium gluten development.
Ferment the dough for one hour.
Roll the dough into  a square ( 25 cm x 40 cm, the shorter side as long as the bread pan) and spread with melted butter. Mix sugar with cinnamon and sprinkle on the dough and roll it from the long side into a log. Place in a buttered pan.
Proof for one hour untill it double its volume.
Bake at 220°C for 30 min.
Das ist mein Beitrag für Susans wöchentliches Yeastspotting. Einen Besuch auf ihrer Seite kann ich sehr empfehlen, es gibt dort so viele schöne Brote zu bestaunen.