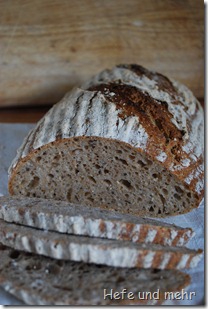 After I made the Raisin sourdough I had to bake a bread with it! Because I was not sure how good this would work I decided to do a simple wheat bread with just some seeds added for more flavour. I decided to use roasted sesame and flaxseeds, because that is a combination I like very much.
When kneading the dough could not find a difference to normal dough made with sourdough but the crust get a wonderful dark golden red hue, darker and more shiny then my normal breads. I think that is due to the high sugar amount in the "chef".
The bread rise good and had a nice open crumb and mild sourdough flavour. Not sour at all, that is how I like my breads!
And like always I sent it to Susans weekly Yeastspotting!
Wheatbread made with Raisin Sourdough
Sourdough
100g Raisin Sourdough (Chef)
200g flour Type 550
120g Wasser
Teig
320g Sourdough
500g wheat,freshly milled
500g flour Type 550
700g water
24g salt
100g sesame
30g flax seeds
Mix water, flour and yeast for the levain and ferment it overnight (about 12 hours).
The next morning: Toast the seeds, then set them aside to cool down . Mix all incredients for the dough  and knead it for about 3 min at low speed, then 6 min on high speed untill medium gluten development. Turn back to low speed and knead the seeds into the dough.
Ferment for 2,5 hours. Fold the dough three times during this time.
Form two breads and place them in brotforms.
Proof for 1,5 hour.
In the meantime heat the baking stone at 250°C.
Bake the breads for 35 min with steam.