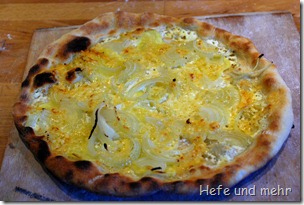 The oven was broken this week (he is repaired now, but I will tell about this later) but luckily we own the small pizza oven Alfredo and could bake our Dinnete!
Dinnete is the swabian variation of Tarte Flambee. It is a flatbread topped with sour cream and onions, potatoes, bacon or cheese. We decided to try a combination of thin potato slices, onions and cheese.
My boyfriend look a little bit unhappy when I told that I would like to top the Dinnete with potato slices, but the taste of the baked Dinnete won him over.
This is a recipe we will bake again!
Dinnete
yields 2 Dinnete
Dough:
200g flour Type 550
50g spelt flour Type 1050
175g Water
5g Salt
1g fresh yeast
Topping:
100g sour cream
1 pinch Salt
2 onions
1 raw potato
50g Cheese, grated
For the dough: Dissolve Yeast in Water and mix with flour and salt. Knead until a homogenous. Fermented for 4 hours at room temperature or one hour on room temperature and 12 – 24 hours in the fridge.
Half the dough and form two balls. Rest for 10 min.
Peel onions and potato and slice them very thinly. Season the sour cream with salt.
Now roll into discs of 30 cm diameter and top them with sour cream, onions and potato slices and grated cheese.
Bake at 400°C for 4 min.
Alternatively heat the bread baking stone for 1 hour at 250°C and bake the Dinnete for 10 min.
I did not have an entry for Yeastspotting for two weeks so I send now this entry to Susan!