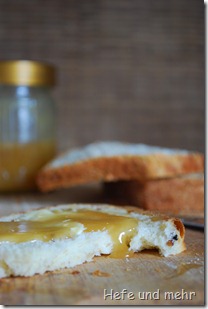 Last Weekend I saw a Mandelstuten – a sweet bread with almonds – at our local baker. But while I love to eat breakfast in the Café that belongs to the bakery, I nearly never buy bread there. I prefer to bake it at my own. But I make for my own: Bake Mandelstuten! And when I read the anouncement for 31. Bread baking day it felt as if Zorra from 1x umrühren bitte read my mind. The Theme she choose for the 3rd anniversary is Bread with nuts. Isn't this perfect?
When I tried to decide which dough I should use as a basic for the Mandelstuten Paules post reminds me of the Hokkaido Milk Bread. This recipe use cream instead of oil or butter and I liked the idea to create a dough similar to the Milk bread. I included a preferment and add more cream to the dough and removed milk powder from the formula. And because the Mandelstuten at the bakery was braided and then baked in a bread pan so I braided my bread, too.
The Mandelstuten is really fluffy and you can pull long strands from the crumb. I think this is due to the long kneading, the pâte fermentée and because the sugar is added at the end of the kneading progress. A delicious bread for breakfast, especially with honey.
I send this recipe to Susans weekly Yeastspotting, too.
Mandelstuten (Sweet bread with Almonds)
Pâte fermentée: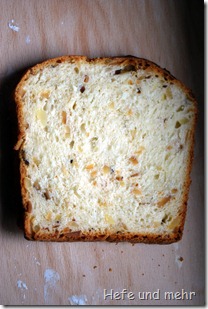 180g flour (Type 550)
126g water
1g fresh yeast
2g salt
Dough:
whole Pâte fermentée
600g flour Typ 550
175 g Milk
200g cream
1 big Egg (60g)
80g sugar
10g Salt
10g fresh yeast
300g almond slivers
Mix all ingredients for the Pâte fermentée and proof it for 1 hour at room temperature. Then put the dough into the fridge for 12 hours.
Roast the almond slivers in a pan at low temperature until golden.
Dissolve the yeast in the milk, then knead in the kitchen machine with egg, cream, salt, flour and Pâte fermentée for 5 min at slow speed.
The knead 7 min at middle speed. Because the sugar inhibits the gluten development, sugar is added just now. Add always a tablespoon at once and knead in until it is complete incorporated before adding another tablespoon. At least add the roasted almonds and knead on low speed until combined.
Proof for one hour.
Now divide the dough into three pieces and roll each piece to strand of 40 cm. Braid and place in a greased bread pan of 30 cm.
Proof for 90 min.
Preheat the oven to 175°C. Glaze the bread prior to baking with some milk and bake for 45 min with steam.