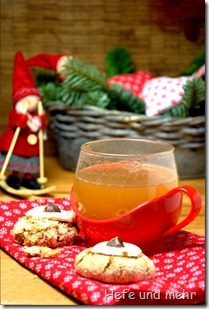 I like Christmas markets – if they are not crowded – and when I visit one with friends or colleagues we normally end our tour at a Glühwein stand. I do not like Glühwein not so much so I drink one of the non alcoholic drinks their offer. The hot chocolate is often not so good and the qualitiy of the "Kinderpunsch" differs very much from market stand to market stand.
This year I tested one that was just made from white grape juice and spices which was not bad but for my taste it was to sweet. And then I discovered the Apfelpunsch stand at the Christmas market on the Altermarkt in cologne. This was very delicious, a not so sweet heated apple juice, seasoned with cinnamon and clove.
Coming home after a long walk in the snow we both liked something hot to get warm again. And so I recreated the Apfelpunsch at home. It is easy to prepare and delicous so I think I will serve the punsch more often this winter.
Apfelpunsch
700ml apple juice
1 stick cinnamon, crushed to pieces
1/2 star anis fruit
1/4 Tps cardamom
5 cloves
Bring apple juice with spices to boil. Infuse for 10 min. Then serve while still hot.