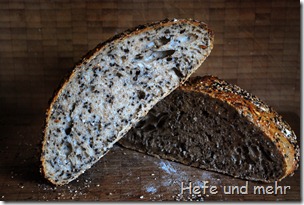 It's time for a proof of life. I survived the last week but worked more than even I imagined. It was the first time in my life that I worked non stop for 15 hours and 45 minutes in the lab. But now I try to work less in the lab and write more at my thesis. The time is running now…
And so I baked once more a bread which I can proof in the fridge. Its easier to squeeze baking bread in my writing routine if I have not to spend so much time on the loaf each day.
This bread contains only one kind of seeds: Sesame. I used white sesame and some of the black sesame an Asian friend gave to me. It's not so easy to find black sesame in German supermarkets.
The taste of black sesame seems to be similar to the white variation. I like it because it gave the bread crumb light and dark speckles. And of course I liked it because I like sesame.
Sesame sun
Sourdough
200g flour Type 550
140g Water
60g Sourdough
Teig
all of the sourdough
150g wheat, freshly milled
50g Rye, freshly milled
800g flour Type 550
700g Water
20g Salt
5g fresh yeast(optional)
70g Sesame (white)
70g Sesame (black)
Morning: Mix water, flour and starter for the sourdough and ferment it  for 8 hours at 25°C.
Evening:Mix all ingredients for the dough. Let it rest for 30 min, then fold it from the outside of bowl into the middle for three or four times. Let rest for 30 min again, then fold the dough and repeat the resting and folding steps one time more. Ferment the dough 1 hour at room temperature.
Shape the dough into two round loaves and proof overnight in well floured breadforms in the fridge.
The next morning: Heat the baking stone at 250°C for one hour.
Slash the loaves directly before baking.Bake for 40 min at 250°C with steam on a hot stone.
I send this bread to Susans Yeastspotting, a weekly showcase of yeast baked goods