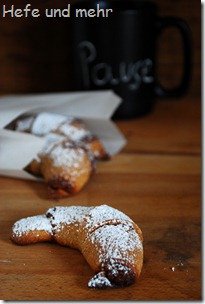 At the moment I stay often very long in the lab to finish the missing Experiments of my thesis. Around late afternoon/ early evening I often get hungry when lunchtime was already 5 hours ago. And when I am hungry and tired I am lacking motivation and concentration. That's not good if I plan to work another two hours!
To prevent this I baked some wholewheat almond-honey crescents for the coming week. The original Idea is from "Das große GU Vollwert-Kochbuch"  but I changed the recipe so much in the last years that you can not recognize the original recipe anymore. I use more liquid and less yeast, I removed the soybean flour from the recipe and added a sourdough. The filling contains less butter, cinnamon and eggs but additional cacao and a pinch of salt.
I like the result very much: Delicious, filling with enough honey to give me a little more power. The long days in lab can come, I'm prepared now!
Almond Honey Crescents
yields 24 Crescents
Sourdough
170g Water
170g flour Type 550
20g Starter
Dough
Sourdough
400g Wheat, freshly milled
230g Water
5g fresh yeast
5g Salt
60g honey
60g Butter
Filling
200g almonds, grounded
100g dry bread crumbs
1 Tsp. cinnamon
10g cacao
1 Pinch Salt
150g Butter
200g Honey
2 Eggs
Mix water, flour and yeast for the sourdough and ferment it overnight (about 12 hours).
Mix all ingredients except the butter and honey for the dough and let the mixture rest for 20 min (Autolysis) then knead for about 5 min at low speed, then 8 min on high speed until medium gluten development. Turn back to low speed and knead butter and honey into the dough.
Ferment for 2 hours.
For the filling melt butter and honey, then add the other ingredients and mix until well combined.
Divide the dough into for pieces and roll each piece to a circle with a diameter of 25 cm. Spread filling on each circle leaving a circle (10 cm diameter) the middle without filling. Divide each circle into 8 pieces (like cutting a cake) and roll each triangle to crescent, beginning with the wide side.
Proof for 2 hours
Bake at 175°C for 25 min with steam.
I send this entry to Yeastspotting, Susans weekly showcase of yeast baked goods.