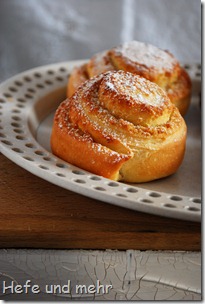 During Christmastime I always have a wide variety of baking ingredients in my storage cupboard. And so every January I have to face the fact that I have a lot of leftovers which have to be used in the next time. A good example is the Marzipan I had left from baking Stollen.  And what would be a better treat for a chilly weekend in January then lukewarm Marzipan Snails with a cup of hot coffee?
The dough was quickly made in the morning – a big batch of preferment was already waiting in fridge. The handling of the dough is easy, it is a soft but not sticky dough. When cutting the Snails they kept their form very well.
For the filling I kneaded Marzipan with butter – a very greasy work – before I added sugar and egg and creamed it with a handheld mixer. If anyone has a better idea to mix the ingredients to a smooth filling, please tell me!
The Marzipan Snails taste delicious with their soft and fluffy crumb and the delicious taste of marzipan.