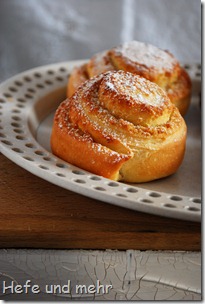 During Christmastime I always have a wide variety of baking ingredients in my storage cupboard. And so every January I have to face the fact that I have a lot of leftovers which have to be used in the next time. A good example is the Marzipan I had left from baking Stollen.  And what would be a better treat for a chilly weekend in January then lukewarm Marzipan Snails with a cup of hot coffee?
The dough was quickly made in the morning – a big batch of preferment was already waiting in fridge. The handling of the dough is easy, it is a soft but not sticky dough. When cutting the Snails they kept their form very well.
For the filling I kneaded Marzipan with butter – a very greasy work – before I added sugar and egg and creamed it with a handheld mixer. If anyone has a better idea to mix the ingredients to a smooth filling, please tell me!
The Marzipan Snails taste delicious with their soft and fluffy crumb and the delicious taste of marzipan.
Marzipan Snails
yields 20 snails
Pâte Fermentée
125g flour Type 550
85g Water
1g fresh yeast
3g Salt
30g flour Type 550
150g Water
Teig
Pâte Fermentée
Water Roux
375g flour  Type 550
60g Egg (one Egg Size L)
40g Milk
10g fresh yeast
3g Salt
50g Sugar
90g Butter
Filling
200g Marzipan
1 Egg
50g Sugar
60g Butter
Mix all ingredients for the Pâte fermentée and proof it for 1 hour at room temperature. Then put the dough into the fridge for 12 hours.
For the water roux whisk water and flour until lump free, then heat it up to 65°C (needs about 3 min) while whisking. Fill the water roux in a bowl, cover its surface with cling foil and let it cool down to room temperature.
Mix all ingredients for the dough except the sugar and butter 5 min at slowest speed, then around 8 min on fast speed until medium gluten development
Now add the sugar in two portions, always knead in between until the sugar is incooperated, then add the next spoonful sugar. Add the end add all the butter and knead until a homogenous dough is formed.
Ferment for 1.5 hours.
Flatten the dough to a rectangle of 25cm x 60 cm.
Knead marzipan with butter, then mix  egg and sugar. Spread on the dough.
Roll it from the long side rather loosely into a log. Cut in 3 cm wide slices, place in a paper lined  baking tray and proof for one hour.
Bake at 150°C with convection mode for 20 min.
I sent this entry to Yeastspotting, Susans weekly showcase of yeast baked good.