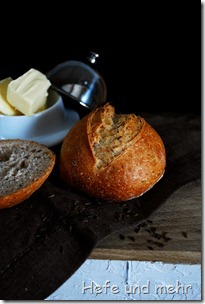 During lunch at work, a dear colleague and I discussed about bread making. I gave him some sourdough last summer as part of his wedding present as well as a recipe for Vinschgerl– a favourite bread of his wife and him. They bake this flatbread regularly but this time the taste of caraway seeds was overpowering the other fragrances, because the fresh batch caraway seeds he bought taste much stronger then the old one. "The bread taste more like a caraway flatbread", said he and I was instantly dreaming of caraway seed bread.
I could not stop thinking about  Caraway seed Bread during the day and when I was home I decided to bake some. I made a dough with some whole rye and wheat flour and a good portion of caraway seeds. I added some whey – a leftover of cheesemaking – to the dough, too.
The bread was baked with falling heat which gave a nicely crispy crust to the bread. The bread fits well with some hearty cheese, but is very delicious with some butter and salt, too.
Caraway Seed Bread and Rolls
Sourdough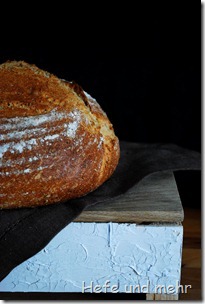 100g flour Type 550
70g Water
10g Sourdough´
Dough
Sourdough
800g flour Type 550
100g rye, freshly milled
100g Wheat, freshly milled
680g whey
10g fresh yeast
10g Malt, enzyme active
20g Salt
20g caraway seeds
Mix water, flour and starter for the sourdough and ferment for about 12 -16 hours at 25°C.
The next morning knead all ingredients 5 min at the slowest speed and 8 min at higher speed until medium gluten development. Let rise for 1.5 hours
Divide the dough into six pieces of 80g for rolls, and the remain dough for a big loaf. Form the rolls into rolls, slash them lengthwise and turn them on the slash.
Form the remaining dough to a  bread and place in  brotform seam side up. ´
Proof for 1 hour, heat the baking stone at 250°C in the meantime.
Prior to baking, slash the loaves, then place them in the oven. Turn the temperature back to 200°C and bake the bread for 45 min with steam. Take the rolls out of the oven after 20 min.