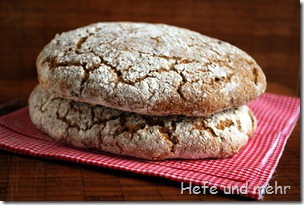 I needed a small present for one of my colleagues. I know that he and his wife like to spend their vacations in South Tyrol and that they fell in love there with Vinschgerln – a rye flatbread, flavoured with caraway seeds, fennel seeds, coriander and "Schabziger-Klee" (Trigonella caerulea ). And I knew also that they tried to bake this bread but their recipe did not work proberly for them.
And so I decided to bake some Vinschgerln for them and give them the recipe, too. I made a little recipe research in the internet and found quite a lot recipes. But some contained not enough water, other recipes had to much yeast and some had a mixture of spices that seemed not original to me. Wikipedia described Vinschgerln as a Bread containing about 70% whole rye flour, and named al the spices needed, and so I decided to build my own recipe.
The bread I bake with this recipe is delious – packed with flavour of rye, spices and and sourdough.
Vinschgerln
Sourdough
200g rye, freshly milled

100g flour Type 550

30g sourdough starter

300g Water
Dough
Sourdough

500g rye, freshly milled

200g flour Type 550

500g water

5g caraway seeds

5g fennel seeds

5g coriander seeds

1g Schabzigerklee

(T

rigonella caerulea

) (1 Tsp)

10g fresh yeast

20g Salt
In the evening mix water, flour and starter for the sourdough and ferment for about 10 –12 hours at 25°C.
Mix all ingredients for the dough  and knead it for about 7 min at low speed.
Ferment for 60 min.
Divide the dough into 200g pieces, shape them round and press them intoflatbreads of 0,5 cm tickness.
Proof on a well floured couche for 1 hour. In the meantime preheat the baking stone in the oven to 250°C.
Bake at 250°C for 25 min with steam.
I sent this entry to Yeastspotting, Susans weekly showcase of yeast baked good.