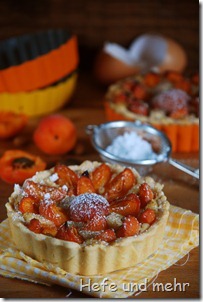 I thought already last year about baking a tarte with apricots and almonds. But somehow I never made it. When I tasted the first apricots of the year, they where aromatic but sour, and I thought that they would be perfect for a tart!
And so I did not hesitate and bought some of them and baked small apricot almond tarts last weekend. Since I got this nice little tart forms with a diameter of 12 cm I tend to use them all the time, whenever I bake quiche or tart. The small tarts and quiches are perfect for lunch at work or as little present for friends.
For the apricot almond tart I used as custard some frangipane, a custard mixed with almond creme. I wanted to use the recipe from Michael Suas "Advance Bread and Pastry" but then decided to use less sugar but more egg and almonds.
I like the mixture of sweet almonds custard and tart apricots very much. A new favourite cake!
Apricot Almond Tart
Dough
250g flour Type 405
120g Butter
60g sugar
35g egg white (of 1 Egg size L)
1 pinch Salt
Frangipane
Vanilla custard
175g Milk
1 Tsp Vanilla extract
20g egg yolk (of 1 Egg size L)
30g sugar
15g Starch
Almond cream
60g Butter
30g sugar
75g almonds, grounded
18g Flour
55g Egg (1 Egg size L)
1Pinch Salt
Topping
Mix Butter with sugar and egg white, then add flour and salt and knead shortly until homogenous. Place in the fridge for 30 min. Now roll thinly and line four tarte forms (Diameter 12 cm).
For the frangipane prepare the custard and the almond cream.
For the vanilla custard boil 125g Milk, pulp of a vanilla extract and sugar. In the meantime mix egg yolks, starch and the remaining milk. Stir this mixture into the boiling milk and keep stirring until the mixture thickens. Remove the custard from the heat, cover with clingfilm and let cool down.
For the almond cream beat butter and sugar untill creamy, then add the grounded almonds, flour, egg and salt and stir until homogenous.
Mix the cold vanilla custard with the almond cream and fill the frangipane in the prepared tarte forms.
Pit the apricots, cut into quarter and  lay them on the frangipane.
Bake for 1 hour at 175°C.