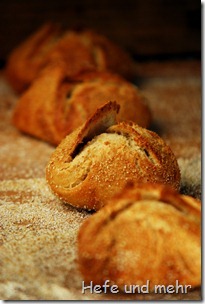 When I tidied my storage cupboard some days ago, I found a bag with oat bran, something I bought a while ago for baking. But then it disappeared behind some flour bags and I forgot about it. Out of sight, out of mind! But after I rediscovered them I wanted to use them as soon as possible. And so I thought about a recipe for our Sunday morning rolls which includes some oat bran.
Because I love yoghurt in bread so much and also because I had some yoghurt left, I decided to put it into the dough, too.
When I formed the rolls I had a flash of creativity and decided to fold the tips of the quadrat to the middle. During the baking they partly unfold, forming a lot of crispy crust. The bran I sprinkle over the rolls enhanced their crispiness, too.
I'm quite happy with them, they are soft inside but crispy outside. Just what I like for a breakfast roll.
Crispy Bran Rolls
Dough
350g Spelt flour Type 630
50g Oat bran
20g Sourdough
3g fresh yeast
200g Yoghurt 10% Fat
100g Water
20g Malt extract (inactiv)
8g Salz
Topping
Knead all ingredients in the kitchen machine 5 min at slow speed and 5 min at high speed.
Ferment overnight at roomtemperature (about 10 hours).
The next morning roll the dough to 1cm and cut it into quadrats of 7.5cm x 7.5cm.Fold the corners of the quadrat  into the middle. Sprinkle with oat bran.
Proof 1 hour, in the meantime heat the backing stone in the oven to 200°C.
Bake for about 10 min at 20°C with steam. Then open the oven door shortly and then switch to convection mode.
I sent this entry to Yeastspotting, Susans weekly showcase of yeast baked good.