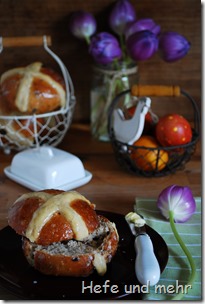 When I saw Hot Cross Buns on an English Blog some years ago, I was fascinated by their look and the describtion of the spices (cinnamon, allspice, cardamom). But living together with a person who does not like raisins at all, baking them never made sense to me.
But this year I learned that in Australia and New Zealand Hot Cross Buns are often baked with chocolate instead of raisins. That was the solution to my problem!
And so I baked Hot Cross Buns for Breakfast on Easter Monday. I made the sleeping long variation – like my Burger Buns the Hot Cross Buns are made with only a tiny bit of fresh yeast, so I can form them the night before. They proof by roomtemperature and the next morning I only had to pipe the crosses and put them in the oven. And until I cooked coffee and prepared our breakfast table, the buns are done.
Is there a better start in a day then with a cup of coffee and still hot chocolate hot cross buns with the flavour of cinnamon, cardamom and allspice?
Chocolate Hot Cross Buns
yields about 16 Hot Cross Bunds
Water Roux
150g Water
30g flour Type 550
Dough
Water Roux
630g flour Type 550
80g Oil
5g Salt
2g fresh yeast
120g Egg (2 Eggs Size L)
50g sugar
1 Tsp Winter spice mix
125g Water
200g Semisweet chocolate, chopped
50g Almonds, chopped
For the cross
85g flour Type 550
20g sugar
25g oil
60g Water
sugar glazing
For the water roux whisk water and flour until lump free, then heat it up to 65°C (needs about 3 min) while whisking. Fill the water roux in a bowl, cover its surface with cling foil and let it cool down to room temperature.
Knead all ingredients except almond and chocolate for 5 min at slowest speed, then around 8min on fast speed until complete gluten development. Now add the chopped chocolate and almond and knead until incooperated.
Ferment for 2 hours.
Divide into 80g pieces and form to balls. Place the buns on a paper lined baking tray.
Cover and proof overnight (about 10 hours).
Preheat the oven to 220°C at the next morning. For the Cross mix sugar, flour and oil with water to thick but still spreadable mixture. Pipe a cross on top of the roll.
Bake the rolls for about 15 min with steam (or 190°C convection).
For the Glaze bring water and sugar to boil and boil. Brush the still hot stars thinly with the syrup.
I sent this entry to Yeastspotting, Susans weekly showcase of yeast baked good.