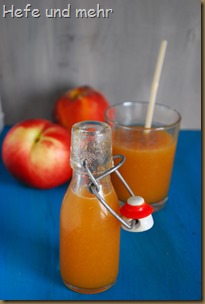 I do not like Iced tea. Or to be honest, I don't like this terrible sweet drink with the artificial fruit flavour which you can buy in the supermarket all year round.
But what would happen when I made a homemade version? With the fruity flavour of ripe peaches and the refreshing taste of rooibos tea? Something slightly sweet, refreshing in the summer heat?
And so I did not hesitate and peeled and pureed some peaches and mixed the puree with some cold tea. The cools down faster, when it is brewed as concentrate and then mix with ice cold water. To finish it I add a little bit of lemon juice. That's it. Done in less then 10 minutes.
And I liked it. It has a creamy consistence, is only slightly sweet and really refreshing. Perfect for hot summer days!
Peach Iced Tea
For 2 big glasses
2 peaches
2 Tsp Rooibos -Tea
100ml boiling Water
400ml ice cold Water
2 Tbs lemon juice
sugar, if needed
Brew a tea concentrate with 100 ml boiling water and 2 Tsp Rooibos tea. Let infuse for 5 min, strain and fill with ice cold water to 500ml.
In the meantime dip the peaches in boiling water for 30 sec, then cool them in cold water and peel the skin of. Remove the pit and puree it together with the lemon juice. Mix with the tea and cool until serving.