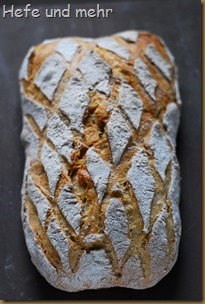 During our last vacation in france I fell in love with the flat, rustic looking Pain Pavé. Pavé means cobblestone and refers to the flat, rectangular shape of the breads. Most of the time they are cut crosswise or with a rhombical pattern.
My version of the Pavé is made with rye sourdough and a long, cold fermentation in the fridge. That helps, together with the folds of the dough, to develope an open crumb and a deep, complex flavour.
It is a bread which goes very well with a flavourful winter soup or very simple with only some goat brie!
Pain Pavé
yields 2 Breads
Sourdough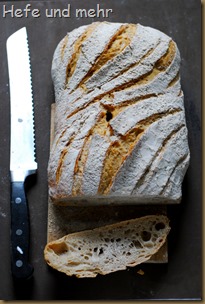 200g rye flour Type 1150
200g Water
20g Sourdough
Dough
Sourdough
800g flour Type 550
500g Water
20g Salt
optional 3g fresh yeast(if your sourdough is not so active)
Mix all ingredients for the sourdough and let it rise for 12-16  hours at 25°C.
Mix flour with water and sourdough and let it rest for 20 min (autolysis). Now add salt and knead for 5 min by hand.  Let it rest for 20 min, then fold it from the outside of bowl into the middle for three or four times. Let rest for 20 min again, then fold the dough again.
Ferment the dough for 16  hours in the fridge. The next mornig let the dough come to roomtemperature (needs about 2-3 hours)
Now divide the dough and form roughly two rectangles. Let the dough relax for 10 min. Now stretch the dough into rectangles of 25 cm x 25 cm. Fold the left and right side to the middle to form a rectangle bread and turn the bread on the seam.
Place the loafs on a well floured couche and proof for 60-90 min (depends of the activity of your sourdough). In the meantime preheat the baking stone to 250°C.
Prior to baking Cut the bread slash the breads rhombically.
Bake at 250° for 45-50 min with steam.