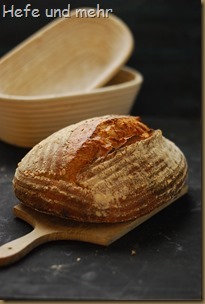 Each morning when I take the train to cologne, I look through the window to see the beauty of our little river agger and its valley (Aggertal). An attentive Observer can see Great Crested Grebe dancing their mating dance, discover a doe with its fawn, different kinds of geese and sometime even a hare. And I love to see small waft of mist over the water, enlighten by the rising sun. And sometimes I wish I could ask the train driver to stop so I could enjoy a view a little longer.
And so this bread is a little homage to my home valley, with my very active sourdough starter, flour from the local mill and water which is (of course) from a side river of the agger.  It catches the essence of home between its crispy crust and airy crumb!
Aggertaler
yield 2 Breads
Sourdough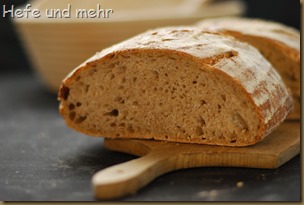 250g flour Type 550
250g Water
25g sourdough starter
Dough
Sourdough
150g Wheat, freshly milled
150g Spelt, freshly milled
450g flour Type 550
450g Water
20g Salt
(optional 5g fresh yeast, if your sourdough is not very active)
Mix all ingredients for the sourdough and let it rise for 12-16  hours at 25°C.
Mix flour with water and sourdough and let it rest for 20 min (autolysis). Now add salt and knead for 5 min by hand.  Let it rest for 30 min, then fold it from the outside of bowl into the middle for three or four times. Let rest for 30 min again, then fold the dough again. Repeat the folding for another time, then let rise for 30 min again.
Shape the dough into two loaves, place them in well floured breadforms for 60-90 min (depending on your sourdoughs activity)
In meantime preheat the baking stone to 250°C. Slash the loaves directly before baking.Bake for 40 min at 250°C with steam on a hot stone.
I sent this entry to Yeastspotting, Susans weekly showcase of yeast baked good.