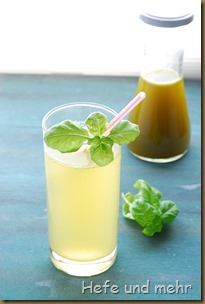 When I'm asked which refreshment I would like to have I answer most of the time "water, please". For me there is nothing more refreshing then sparkling water! But on humid summer days like the one we have at the moment I sometimes like to have some "flavour" in my water, too.  Adding a dash of juice or syrup is then my first choice.
And when I discovered a recipe for a ginger basil lemonade on a flyer a colleague brought to the lab after lunch, I wrote down the ingredients instantly. But – and that is typically me- I did not follow the recipe completely. My variation use lemon instead of lime and I added lemon zests to the syrup as well. And I use less sugar.  In the beginning I was a little bit doubtful about the basil, but it fits into the mixture very well, and even my dearest one who is normally no friend of experiments when it comes to lemonade, liked it very much!
Ginger Basil Lemonade
250g Water
50g sugar
30g ginger
1 lemon, juice and zests
25g fresh basil
sparkling water
Peel the ginger and cut it into thin slices. Place the ginger with sugar, water and lemon zest in a pot and let the mixture simmer for 15 min, then let it cool down and strain the syrup through a sieve.
Now place lemon juice and basil leaves into a food processor and mix as fine as possible. Strain as well and combine with the syrup.
For the lemonade mix syrup with sparkling water to taste.