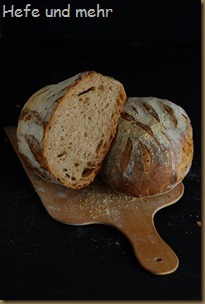 I love breads with a soft crumb and a crisp crust. And there are two possibilities to archive a thick, crunchy crust: You can either bake the bread with falling heat or you use the trick of "double baking". For double baking you let the bread cool down after the first round of baking and then put it back into the oven. This yields a very aromatic, crisp crust.
For this wheat and spelt bread I used both methods. First I baked the loaves with falling heat, then I let them cool down over night. The next morning I put them back into the oven for about 15 min.  That created a bread with a perfectly crisp crust!
Double Bake
yields 2 Breads
Sourdough
10g Sourdough
250g flour Type 550
140g Water
Dough
Sourdough
200g spelt, freshly milled
550g flour Type 550
520g Water
20g Malz (inactive)
20g Salt
10g fresh yeast
Mix water, flour and starter for the sourdough and ferment for about 12 -16 hours at 25°C.
The next morning knead all ingredients 5 min at the slowest speed and 6 min at higher speed until medium gluten development.
Let rise for 1.5 hours.
Divide the dough into two equal pieces and shape them into batards and place them on a well floured couch.
Let them rise for 1 hour.
In the meantime heat the oven with the bread baking stone to 250°C.
Prior to baking, dust with flour and slash with long, flat curves. Place the breads in the oven with steam. Turn the temperature back to 200°C after 10 min and bake the bread for another  25 min.
Let the bread cool down for at least one hour (or overnight), then heat the oven to 250°C and bake the bread on a cooking grate or baking sheet for about 15 min.
I sent this entry to Yeastspotting, Susans weekly showcase of yeast baked good.