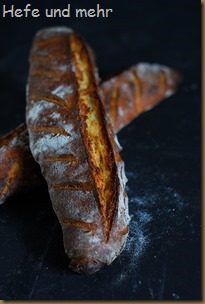 The pseudo grain quinoa is a fast side dish I like to make instead of rice. The flat seeds stems from the Andens and are packed with protein and minerals and they are delicious! So I was directly hooked when I saw a bread made with a relative high percentage of quinoa because they contain no gluten. Sadly I can not remeber anymore, where I saw the bread. But I could not get the thought of quinoa bread out of brain and so I decided today spontaneously quinoa baguettes.
I used 30% of home milled quinoa and was surprised how well the dough behaved. It needed a little bit more water then I expected but after some folds it developed a good gluten network. The flavour of quinoa was well recognizable when I knead the dough and while baking the whole kitchen was filled with the aromatic nutty smell. I was really exited when I cut the bread after cooling down. The crumb is not as open as a baguette but moist and flavourful. The nutty taste harmonizes perfectly with some goat cheese and honey mustard!
Quinoa Baguette
yieds 2 Baguette
Sourdough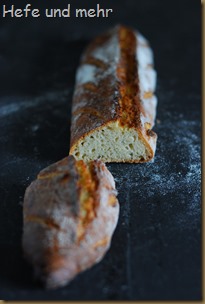 100g flour Type 550
100g Water
10g sourdough
Dough
Sourdough
250g flour Type 550
150g Quinoa, freshly milled
260g Water
10g Salt
2g fresh yeast
Mix all ingredients for the sourdough and ferment at 20°C for 14 hours.
Mix flour with water and let it rest for 20 min (autolysis). Now add sourdough, yeast and salt and knead for 5 min by hand.
Ferment the dough for 2 hours, stretch and fold every 20 min.
Heat baking stone in the oven to 250°C.
In the meantime divide into two pieces and preshape into squares. Rest for 20 min.
Then roll  gently into baguettes of 30 cm and proof on a couch for 30 min.
Slash like a leaf (one long cut in the middle and small cuts on the sides) and bake the loaves on the hot stone for 20 min at 250°C with steam, until the crust is golden brown.