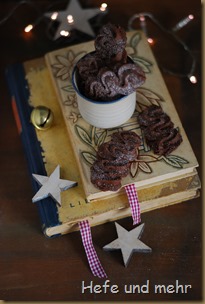 This Month I published another recipe in the staff journal of the university of cologne. And this time it is a chocolate cardamom sablé recipe, perfect for Christmas.
Sablé is French and means "Sand" and as tender and friable is this cookie inspired by the French original. With cacao, cardamom and cinnamon the cookies are very aromatic and the little salt crystals of the fleur de sel are the perfect contrast to the sweet cookie.
When making the dough you have to take care of two things: Butter and egg white should both have room temperature, to ensure a soft dough perfect for piping and you should just fold the flour under to ensure a tender cookie. But then they are easily made and a perfect treat for Christmas time!
Chocolate Cardamom Sablés
yields about 50 cookies
Dough
250g soft Butter
125g powdered sugar
1/2 Tsp Salt (preferable Fleur de Sel)
1 Tsp cardamom
1 Tsp cinnamon
70g egg white (of 2 size L), room temperature!
40g cacao
250g flour Type 405
Cream Butter and podered sugar together with salt and spices for about 3 min, until the mixture is light and creamy. Now add the eggwhite and whip for another 3 min. It is very important that the eggwhite has room temperature otherwise the mixture will turn into a grain consistency and hard to pipe!
Now sieve cacao and flour and fold it under the eggwhite butter mixture. Fill in a piping bag with a star pipe (7mm Diameter) and pipe cookies in a zick-zack pattern.
Bake at 175°C for 18 min.
Tip: Kardamom and Cinnamon can be replaced by finely grated orange peel!