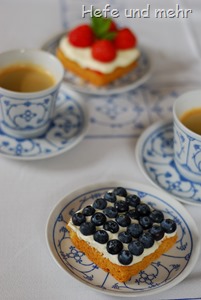 It's summer. Maybe the weather is autumn-like (which is somehow typical German) but the strawberry stall is back at the Albertus-Magnus-Place and this means: It's summer. They are selling strawberries from a local farmer and the special offer of the week were two Kilogram for five Euro! I did not hesitate and bought a basket for my beloved  boy friend. As I'm allergic against strawberries he had the two kilos for himself and so he had enough fruits to cook jam, to snack them pure and to bake a cake.
And as I like some cake as well we made come with blueberries for me as well. The base of this little tarteletts is Sablé Breton, which I found on Michas Grain de Sel, and which I topped with an elderflower flavoured cream and with berries (of course). The delicate flavour of elderflowers fits to the berries very well. The cream is very easy and contains just elderflower syrup and whipped cream. A perfect cake for lazy weekends!
Berry tartlets with Elderflower Cream
yields 5-6 tartlets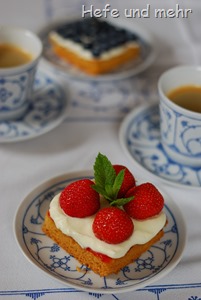 Sablé Breton
1 Egg
75g sugar
1 Pinch Salt
100g soft Butter
125g flour Type 405
5g Baking Powder
Topping
200g whipping cream
6 Tbsp. elderflower cordial
6 Tbsp. Jam (Blueberry or Strawberry)
Blueberry or Strawberry (about 25-50g for each tartlet)
Sable Breton: Whip egg with sugar and salt until the mixture change its colour and becomes frothy. Stir in the butter and whip until homogenous. Now fold in Butter and baking powder. Chill the dough in the fridge for at least 2 hours in the fridge (alternative use two sheets of sandwich paper to press the dough to 1 cm thickness and chill it for 20-30 min in the fridge). Now roll the dough to 1 cm thickness and cut them using tarte rings or serving rings. Transfer them in the ring on a cookie sheet. The cake will be baked in the rings!
Bake at 170°C fpr 15-20 min. Let cool down completely before removing the ring.
For the topping whip the cream together with the elderflower cordial.
Spread the Sablé Breton with a Tbsp. Jam, add a layer elderflower cream and top with berries. Serve immediately.