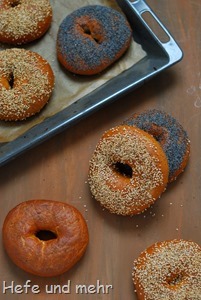 I was asked to include a bagel recipe in my little course about bread baking and I was very willing to do so. Bagels are a good recipe for beginners as the dough is quite firm and not sticky at all. Kneading on the other hand can be a little work out because of the firm dough, too. But kneading a bagel dough is important to get a chewy bagel. So turn on some music and start kneading!
Another important point is boiling the bagels prior to baking. The longer you cook, the denser the bagel will become, as the proteins and starch on the outside of the bagel start already to set, preventing the bagel from rising to much in the oven. I like Bagel on the softer side, so I boil them for 30 seconds on each side. But play around with this time to get your personal perfect bagel!
To enhance the brown, shiny crust I added some baking soda to the boiling water. The soda makes the water  mild alkali and this will effect the surface of the bagel. While cooking the bagels in this solution, some of the proteins are break down into their building blocks (amino acids). During baking, these amino acids will then react with the sugars in the crust (Maillard reaction) which then will lead to darker browning of the crust. The same effect is used when baking pretzels, but the lye used there is much stronger, which in the ends leads to a much stronger browning and the prominent flavour of real lye pretzels.
Bagel
yields 7 big Bagel or 8 small ones
Dough
500g flour Type 550
260g Water
10g fresh yeast
10g Salt
25g Butter
30g honey
For Boiling
1.5 l Water
15g Baking Soda
Topping
Knead all ingredients for the dough for 10 min by hand. The dough should be relatively firm and not sticky.
Ferment for 1 hour at room temperature or overnight in the fridge.
Divide the dough into 120g pieces for big bagels (or 100g for small ones) and form them to rings. The easiest way to do so, is first forming the dough pieces to balls (see here), then punch a wooden spoon through the middle and widen the ring by rolling the dough between your fingers. At the end you should be able to insert 4 fingers through the hole. Place the bagel on a sligthly floured tea towel, covering with a second one.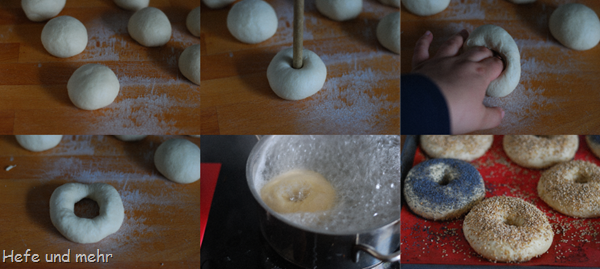 Proof them for 1 hour
Bring water with soda to boil and cook the  cook them for 30 sec each side in boiling water.
Place the bagel on a baking sheet and sprinkle them with poppy seeds or sesame.
Bake at 250°C for 20 min (small Bagel has to be bake for about 16-18 min).