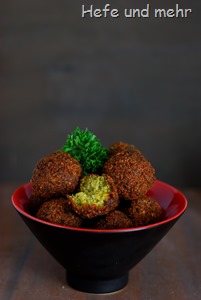 After the successful disputation we always have a little party with delicious food. After the exiting defense the newly made doctor need something to refresh and we others need it as well. There is nothing more existing for all of us!
For the last defense I was asked to make Falafel and so I spend the morning rolling them. I needed 45 min to form 100 Falafel and after 50 I asked myself if I was doing to many. But when I then placed the freshly fried falafels on the buffet, they were gone so fastly that I knew that 100 was the perfect number. And when I was asked if the recipe is already on the blog, I had to say no. But now it is 🙂
Falafel
yields about 25 Falafel
250g dried chickpeas
1 onion
1 garlic clove
1 Bunch of parsley (or a mixture of cilandro and parsley)
1/4 Salt lemon (or juice of 1/2 lemon)
Salt
1 Tsp. cumin (grounded)
1 Tsp. coriander (grounded)
1 Tsp. sweet pepper powder
Bulgur or Bread crumbs, if needed
Soak the chickpeas in water overnight.
Drain them very well and using a mincer or a food processor finely mince them together with onion, garlic, parsley and salt lemon. Season well with salt and spieces.
Now test if the mass is firm enough to form falafel. If not, add some bulgur or bread crumbs and let it soak for 10 min.
Form Falafel and fry them at 180°C in hot oil for about 6-8 min.
Tip: If you have to prepare them in advance: Prefry them for 5 min, and just before serving for another 2 min.