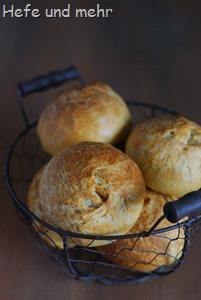 Kieler Semmeln are rolls which stem – as their name suggested – from Kiel. They are a special roll as they are rubbed in a mixture of butter and salt, which gives their surface a rough look and adds a nice buttery and sligthly salty flavour. There are different recipes around for this kind of rolls, some of the containing lard or cinnamon as well. Cinnamon seems to me a bit to adventurous for a first trial, but I keep this variant in the back of my head for a second version.
As dough, I chose something well-tried, which I changed only slightly. Some sourdough and a cold rise in the fridge adds complex aroma notes even without a preferment, which makes the rolls good for spontaneous "I want to serve rolls for breakfast"- Ideas on late evenings. The rubbing of the preformed rolls in the butter-salt-mixture needs a bit of practice but even if the dough dos not make perfect folds,  the recipe will still yields a delicous roll with fluffy crumb a crisp crust which crackles while cooling and which carries a hint of salt and butter.
Kieler Semmeln
yields 10 rolls
Dough
500g flour Type 550
285g  Water
20g egg yolk (from 1 egg size L)
optional: 15g Sourdough (from the fridge)
20g Butter
10g Malt
10g fresh yeast
10g Salt
For Rubbing
Knead all ingredients for the dough for 10 min by hand. The dough should be now soft, but not sticky.
Let the dough rise over night in the fridge (or for 1 hour at room temperature).
Divide the dough into 80g portions. Flatten the dough a little bit and start to fold the dough in the middle. Repeat until a ball has formed.  Cover and let rest for 10 min.
In the meantime mix butter and salt for rubbing and spread half of the butter on the countertop.
Place one of the preformed rolls on the butter and lay your hand on the dough. Start to circle your hand fast while bending the hand slowly, to create tension on the dough. On the bottom, a little hole will form. To enhance the rubbing effekt, repeat this on a not buttered part of the countertop. Place the rolls with the fatty side facing down on a slightly floured couche.
Proof for 60 min.
Preheat the oven to 250°C.
Turn the rolls, so that the fatty side is upside, and place them on a paper lined baking tray. Mist with water and bake with steam for about 20 min at 250°C. For really crisp rolls turn to convection mode during the last 5 min.