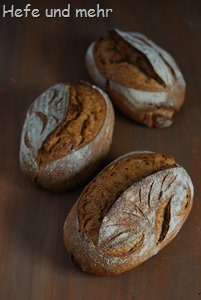 It makes me always happy to get my hands into flour and I enjoy it  very much when I have the opportunity to bake more then one kind of bread. This weekend I baked busily as I wanted to have a selection of bread for the "Schwarzmarkt" – the non-commercial food swap market which took place today. I prepared breads with different seeds, breads with oats and whole grain breads.
The whole grain bread is moist as I added some butter and a hot soaker to the dough. And a long, cold proof and the whole grain variant of my sweet starter build a complex flavour and the oven spring is very good and the slashes opend in a nice way. To archive slashes which open nicely and form nice "ears", these things has proved themselves: a sharp nice (of course), cutting in a shallow angle and a slash in slight crescent shape.
Whole Grain
yields 2 Bread
Sweet Starter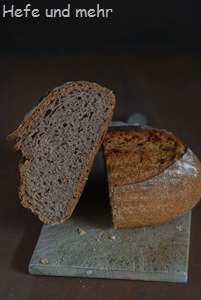 100g Sweet Starter
150g Wheat, freshly milled
85g Water
Hot soaker
180g Wheat, freshly milled
360g boiling water
Dough
Sweet starter
Hot soaker
600g Wheat, freshly milled
370g Water
60g Butter
20g Salt
20g Malt
Mix the ingredients of the sweet starter and let it rise until the volume doubled (2-4 hours) at 30°C.
Mix flour and boiling water and let cool for for at least one hour
Now knead all ingredients 5 min at the slowest speed and 8 min at higher speed until medium gluten development.
Let rise for 1.5 hours
Divide the dough into two parts and form to two oval breads. Place in two floured proofing baskets.
Proof overnight in the fridge.
The next morning heat the baking stone at 250°C .
Prior to baking, place on a peel and cut lengthwise. Place the breads in the oven with steam. Turn the temperature back to 200°C after 10 min and bake the bread for another  35 min .