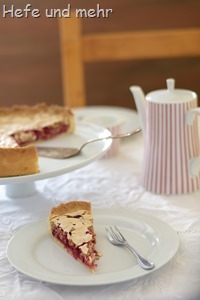 Am I the only one who has a secret stock of berries of the last season which has to be used urgently before the berries of this season are ripe?
Beside a small package of blackberries I saved a pound of red currant all winter long. And as the currant bushes in my parents garden already promise a rich harvest I had to make room in the freezer. And so I baked my favourite "Ribiselkuchen". It is a simple cake with shortcrust tarte shell and a filling made of meringue, almonds, bread crumps and berries. The bread crumbs keep the berry juice from soaking the tart shell. And as I used roasted crumbs – which were meant for bread originally – the filling has a deeper flavour as the more traditional way with unroasted crumbs.
Ribiselkuchen
Short Crust
100g Butter
100g sugar
1 Prise Salt
30g Egg yolk
250g flour Type 405
some Milk if the dough stays crumbly
Filling
500g red currants (fresh or frozen)
3 Egg whites(from Eggs size  L)
120g sugar
1 Prise Salt
75g roasted, finely ground bread crumbs
50g grounded almonds
For the short crust cream Butter with sugar, salt and egg yolk. Then add flour and milk and knead until a homogenous dough has formed. Chill in the fridge over night (or for at least one hour). Roll the dough to 4 mm thickness and line a springform (26 cm diameter).
For the Filling wash the red currants (if you use fresh ones). Then whip egg whites until soft peaks, then add sugar and salt and continue whipping until the sugar is completely dissolved. Fold in bread crumbs, gounded almonds and rhubarb.
Bake at 180°C for about 50min.