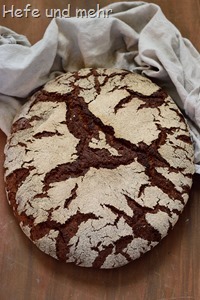 I like to bake "by order" as I can then bake bread I bake rather seldom. Pure Rye bread, for example, as I have a rather sensitive stomach who do not like the higher acidity of rye bread. And while I do not eat rye bread I still like to bake it. Its different consistency makes it a bit challenging and is a nice change in my wheat- and spelt-dough routine.
For this bread which I bake for a big birthday I choose so called "Lichtkornroggen". This is a rye variety  containing light coloured rye seeds instead of the normal grey green coloured rye. It is a modern back breeding from ancient rye varieties and yields a lighter bread then normal whole rye flour. Its flavour is milder as well and so I build the sourdough in the classical german "three stages": The so called "Anfrischsauer" (refreshed sourdough) to activate the yeasts is then followed by the low hydrated "Grundsauer" (basic sourdough) to generate a well balanced acidity and the last step called "Vollsauer" (complete sourdough) in which the warm and soft dough is perfect for yeast and homofermenting lactobacteria and in which the sourdough develops a lot of activity.
Such a "three stages" sourdough is time consuming and has to be planed well. For me this time schedule works best: at 5 p.m I start the "Anfrischsauer", before going to bed at 10 p.m. the "Grundsauer" is mixed, and the next morning at 8 a.m I prepare the "Vollsauer". The dough can then be mixed at 11 a.m and at 3 p.m the bread is baked. It takes 22 hours to make this bread, but the complexity of flavour it gains through the process is worth every minute of the time invested. For the "Anfrischsauer" I tend to make more the finally needed as in my experience going below 50g makes a sourdough more instable.
The bread I baked with this complex flavour sourdough is a big 2 Kilo loaf like in former times baked in wood fired ovens. Due to its weight it has to be baked for a long time and gains a lot of additional flavour from this. And the guest at the birthday party liked the bread very much. One of the nicest comments I heard was that it taste so good as in "former times when bread was still tasty".
Light Rye Bread
xields 1 loaf of 2 kilo
Anfrischsauer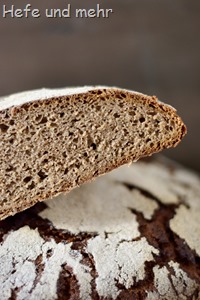 (Stage 1)
20g Whole Rye flour (Lichtkorn Rye)
30g Water
4g Sourdough
Grundsauer (Stage 2)
115g Whole Rye flour (Lichtkorn Rye)
65g Wasser
25g Anfrischsauer
Vollsauer (Stage 3)
210g Whole Rye flour (Lichtkorn Rye)
255g Water
Grundsauer
Soaker
120g dry bread crumbs (preferably whole grain)
320g Water
Dough
Vollsauer
Soaker
365g Whole Rye flour (Lichtkorn Rye)
300g flour Type 550
300g Water
20g Salt
Mix all ingredients for  the Anfrischsauer (Stage 1) and let it rise for 5 hours at 25°C .
Now prepare the Grundsauer (Stage 2) : Knead the ingredients to a firm dough and let it rise for 10 hours at 23°C
The next morning mix all ingredients for the Vollsauer and let it rise for 3 Stunden at 30°C.
Bring the water for the soaker to boil.  Stir in the bread crumbs and let cool down to room temperature.
For the dough mix all ingredients for 5 min (either by hand or with kitchen machine).
Let the dough rest for 30 min.
Form the dough to a round loaf (works best on a wet surface), flour its surface and place it in a well floured proofing basket.
Proof for 90-120 min.
In the meantime preheat the baking stone to 250°C.
Turn the loaf on a well floured bread peel and let proof for another 5 min uncovered. Cracks on the surface will form during this time.
Place the loaves in the oven. Bake for 30 seconds, then produce steam in the oven. After 10 min, release the steam and reduce the temperature to 180°C and bake for another 65 min.